For recent project I needed to quickly and easily create varying levels of an overlay on images … mostly to test which opacity level worked best. The idea is simple:
Have image open
Based on the foreground color, create a duplicate layer with an opacity of 5%
Repeat step #2 though +5% opacity all the way up to 95%
The speed of this action is: not that fast at all. It takes some time to generate each layer and so on. The speed will depend on your image size (resolution) and computer speed. The gif below makes it look pretty fast, though I cut out the waiting time (~10 to ~15 seconds).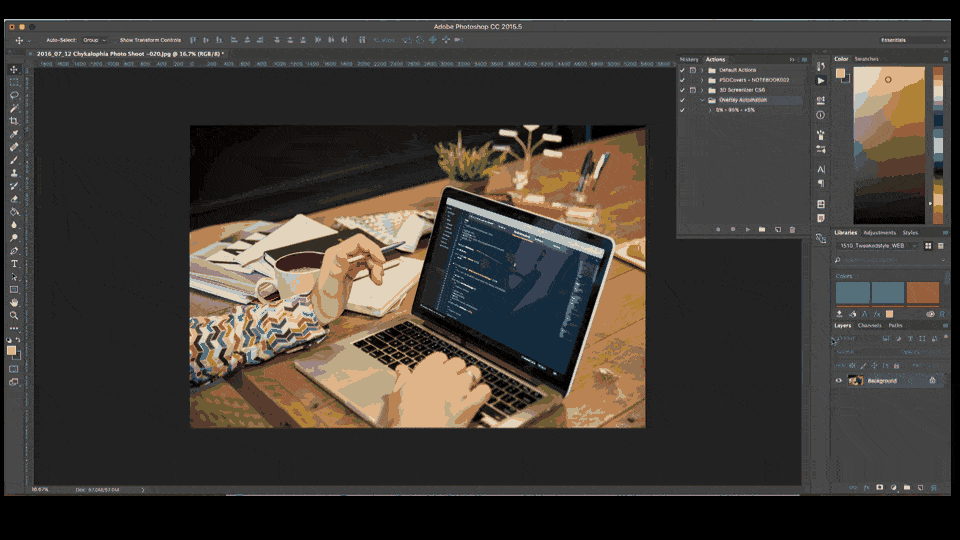 There no opt-in or anything for this. Just click the link below to get it from our Dropbox:
https://www.dropbox.com/s/fyuiuu4a3wowaws/Overlay%20Automation.atn?dl=0
Specific usage instructions:
Import Action
Open your Actions panel
Open the photo/image you want overlays created for
Set the solid overlay color you want to the FOREGROUND color
Run the Automation "5% – 95% – +5%" (I know, not the greatest name in the world)
Wait a little while for it to complete
Pick and chose from the layers to export.
Each layer is a copy of the original graphic/image. So you can export that single layer or set of layers to get the image + overlay you wanted.
Let us know if this action has helped you. Any other actions you'd like to see / get for free?