Forget MVP, it's time to build a successful MLP during the early stage of your product development, so you can prioritize user experience from the very start.
Many founders, at the beginning of their business, dream of creating the next big thing.
"I want my app to be the next Clue" or "I want my period underwear to have a website like Knix's."
While these big dreams are essential to keep you going forward, it's not something to focus on at the early stages of your business.
Putting too much work into 'the next big thing' at the start of your business can cost you a lot of hours and dollars, without any guarantee that people will love the result. Worst-case scenario, it could cause the end of your young business.
About 20% of small businesses in the U.S. don't survive their first year, according to the U.S. Bureau of Labor Statistics. The causes are varied, but the most common one is cash flow issues or low sales — caused by even more varied reasons like lack of proper business plan and marketing.
Let's avoid that, shall we?
Forget MVP, Start with MLP
Rather than spending months and thousands of dollars to create the perfect product for the first launch, consider focusing on the very basic version of your product. There are several terms for this version, the most widely used ones are minimum viable product (MVP) and minimum lovable product (MLP).
What is the main difference between MVP and MLP?
MVP has just enough features for early users to try. However, the downside of MVP is that it is usually released quickly with minimal features, designs, and testing solely for the sake of data gathering. That being said, your customers can use it, but they may not love it, they just tolerate it.
For that reason, the term MLP was coined by Jeff Wilke, VP of Product at Amazon. And the next question is…
What is a minimum lovable product (MLP)?
MLP is a product version that is released with just enough features for early customers to love the experience. It's a sweet spot between a tight timeline and a delightful user experience. And for a result, you will have an early-stage product that:
Can solve your customers' problems
Provides a pleasant user experience
Makes customers want to keep using it
A simple analogy for MVP vs MLP
Think of MVP as a plain croissant. You can eat it as is, yes, but that's it. Meanwhile, MLP is a plain croissant that comes with butter and strawberry jam. You can eat it and enjoy it. And if you prefer blueberry jam, that's customer feedback.
Why You Should Focus on MLP First
Building the 'perfect' product takes forever — quite literally. There is always room for improvement, that's why it is better to start with MLP.
Some more reasons why building an MLP version is more recommended for new businesses:
It saves a lot of time because it takes a relatively shorter time to build a successful MLP with less budget
You get to test and review things internally and externally with a small number of selected users
You start building an audience with these selected users
You receive feedback that you can adapt to the next development phase
In the long run, you have a more polished product that can stand out among others when you're pitching to investors.
3 tips to build a successful MLP (Minimum Lovable Product)
If you're currently building a femtech company and the MLP concept intrigues you, read on. We have compiled several expert tips on how you can build a successful MLP for your femtech business.
1. Understand the problem and how your product can solve it
As a brand, you may have found your 'why'. But your product's 'why' can be different.
Your brand's 'why' is about your values, while your product's is more on the rational side. If you're building a period tracker, what problem can you solve that other apps haven't done? Or if you're creating period underwear, do you offer more advanced materials and a fun, memorable shopping experience on the website?
2. Remember that it should be 'minimum'
We know it's fun to build your product, but don't get carried away and prepare too many different jams for your croissant. First, serve it with unsalted butter and strawberry jam and collect feedback. In the next round, add salted butter and raspberry jam and gather more data.
Your first MLP needs to focus on its core features. For instance, make sure your MLP is able to track users' periods, physical symptoms, and mental symptoms. Those sync-with-Google-Calendar or sync-with-Apple-Watch features can come in later versions.
But don't take 'minimum' too seriously, either, because that would be MVP. Allocate some time to create a nice-looking UI and sharp copy, and make sure everything runs seamlessly.
Below is a good illustration of differentiating MLP and MVP to help you find that sweet spot.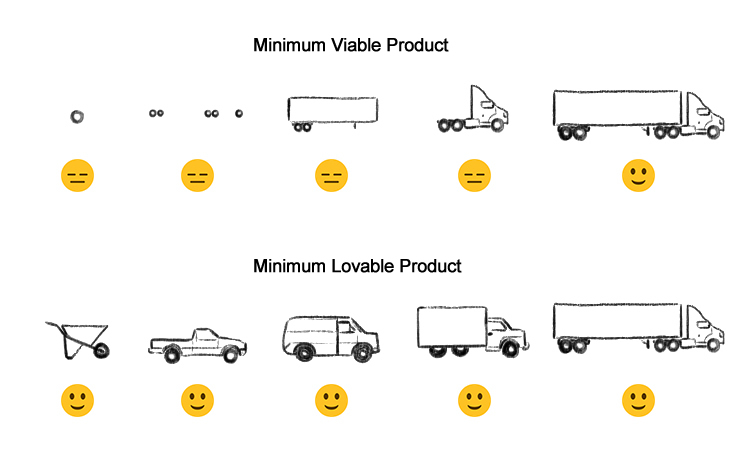 3. Measure your success
You may want to go back to page one of your business notebook for this one. Revisit your business values and what goals you want to accomplish, then set some KPIs and remember to check them from time to time. This way, you make sure your product development is on track and you can filter out whatever customer feedback that doesn't align with your business goals.
To build a successful MVP, be sure to dream big and start small
Simon Sinek's quote "Dream big. Start small." can translate really well to the concept of building an MLP. However, the full quote says, "Dream big. Start Small. But most of all, start."
So, start including MLP strategy in your business plan.
To help you get started, learn from free resources at Chykalophia and subscribe to our newsletter, The Next Draft, below!