We are compiling 5 key tips for a successful social video marketing strategy, taken from our past discussion with Social Snacks Videos.
YouTube, TikTok, Instagram…
Leading social media platforms that we use daily have shifted our media consumption from texts and images to videos. So, what does your brand need to do to keep up with the trend and maintain engagement with your audience?
We say, learn social video marketing strategy and join the club!
5 Tips to Create a Successful Social Video Marketing Strategy
Before you board the video production ship, we have discussed this with Tracy Hatfield, CEO of Social Snacks Video — a Chicago-based social video marketing production house. As an expert in her field, Tracy has shared the five important things you need to know about social video marketing strategy.
1. Bulk is better
Never let producing for one campaign be a reason to create just one video. You can always find different angles to create multiple stories even from one campaign. Here are some ideas off the top of our heads:
Short interviews
Conduct interviews with your talent, crew, and staff. This type of video shows the human side of your brand and your campaign — which is essential if you want to build a real, genuine connection with your audience.
Behind the scenes
Show all the laughs, food, and challenges behind the camera. Again, this also humanizes your brand, so don't let anything go off the record 😆
Alternate opening or alternate ending
It's always good to have a plan B. You can also use the alternate videos for A/B testing with your ads.
2. Be purpose-driven
Social video marketing can be more than just a pretty film for YouTube or Instagram. In line with the previous point, here are several different ways you can use your videos:
Explain your campaign process. Show your brainstorming sessions, all the meetings, and other things that took place before the director says, "Action!"
Answer commonly asked questions, such as: Who should watch this video? What's the most exciting part about this project? What's the purpose of having this campaign?
Show gratitude to your loyal audience. This is especially true for established brands. Remember that your brand wouldn't be here without them. As for new brands, you can say thanks to your team members, crew, and everyone else involved in the journey so far.
3. Think first impression
When you meet someone new, you observe their voice, appearance, face, and micro-expressions. These set expectations in your unconscious mind, whether or not you think you would click with that person.
Now treat your videos as a new person you'd like your audience to meet.
4. Be flexible
Different platforms require different ratios, so you need to adjust your videos accordingly. Check out the image below to find the recommended size ratio for widely-used platforms.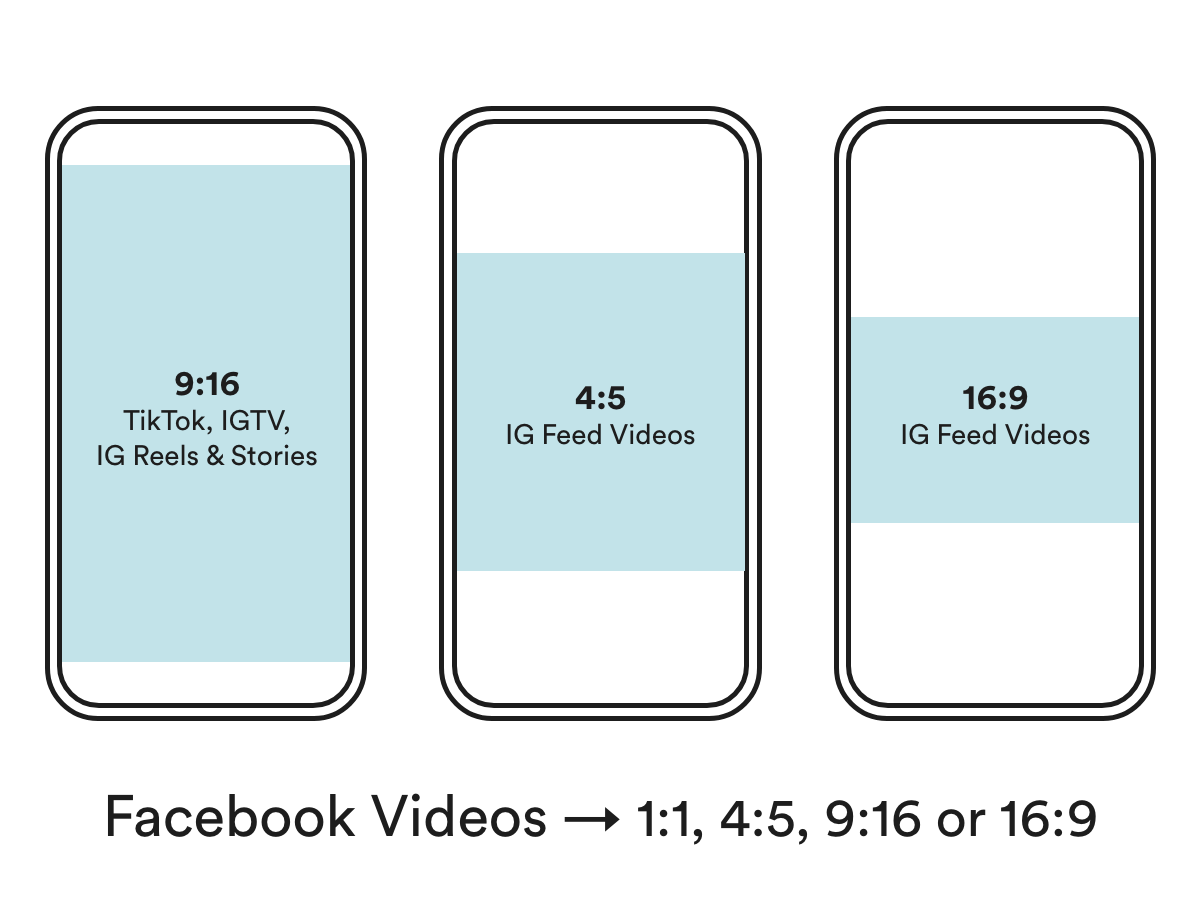 5. Split the baby
Different platforms also perform best with different video durations. Split your videos and utilize them on all your channels. Here are some common best practices for distributing social video marketing.
Full video on YouTube
Shorter video for ads
Snippets on IG Stories
Create GIFs for newsletters
Recreate the transcript into a blog post
And many more. The sky is the limit!
There you have it! The five things about the social video marketing strategy that we wish every single one of you knew.
If you want to incorporate social videos into your website and digital marketing strategy, check out our Chicago-based partner, Social Snacks Videos!
Learned Something from This Article?
Get more delivered to your inbox! Subscribe to our newsletter, The Next Draft, and be the first to read our newest resources.