Helping women-led brands fast-forward their business
Without sacrificing their time working in the business

CHYKALOPHIA (read: see-ka-lo-fia)
The creative and technology agency that gets excited about social, cultural impact and innovation with data and tech along with visionaries behind them.
Founded by the husband-and-wife duo Peter & Ari Krzyzek, our team specialize in establishing strong brand pillars and online experiences.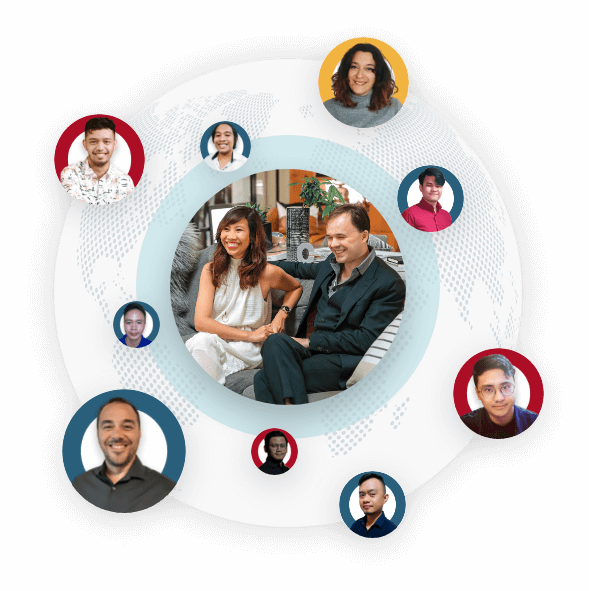 WE HELP ESTABLISH YOUR BRAND PILLARS TO ACCELERATE YOUR GROWTH
Plan & Discover
Let's connect and chat about your business.
Design
Develop the blueprint for your brand equity & design.
Execute
Online channel from website, digital marketing to SEO.
Accelerate
Setting your brand for growth with the support you need.
Can't commit yet but want in for all things branding, design, and website? Join our newsletter
The Next Draft
here.
Their Love ❤️ Notes to Us
The team did excellent job in revamping our existing websites, branding & UX. I'm delighted with it and saw a significant increase in organic traffic and leads.
CEO, OnShore Technology Group
With Chykalophia's help, we were able to design our website for our ideal customers. We were very pleased with the way they listened to our needs, handled the project very well, and were very responsive.
Lynn Bednar, MS, CNS, LDN
Owner, Walsh Natural Health
They build what we need on the platform that we choose. The team bring innovative ideas to the table, understand our business and enabling a successful engagement.
Founder, Love & Light School
The team were UX savior! They were incredibly strategic, created a seamless process that was easy to follow and went above & beyond the deliverables with added support.
Founder, Somewhere in Between
They go above and beyond in terms of creativity and customization. I also appreciate their flexibility and willingness to indulge in some out-of-the-box thinking.
Co-Chair, Lynn Sage Breast Cancer Foundation
Ari, Peter and their team helped me take the web work off my plate. They understand me, my brand, my voice, and how I work. I knew I was leaving this project in a good hand.
Chykalophia team shared our vision for our community website from design, speed, and other various functions including our membership arm.
Co-Founders, Fertility Rally
We were impressed from day 1. They are xperienced, knowledgeable about creative AND marketing, easy to communicate our needs to, very responsive and incredibly efficient.
CEO, CoFounder, Little Global Citizen
Chykalophia team is so knowledgeable and patient! My favorite part was the whole communication process and how responsive they are with the project.
If you're looking for a collaborative website team that delivers on strategy, design and function, I highly recommend Chykalophia. It will be some of the best money you've ever spent.
Este tipo de manifestaciones aparecen en caso de sobredosis, voluntaria o no, o en caso de trastorno del funcionamiento de los riсones. Puede afectar tanto a la madre como al niсo en el que provoca aftas (candidiasis oral). Las razones La inhalación de los compuestos clorados utilizados para desinfectar el agua tambi n puede provocar una crisis de asma, agravar una rinitis o un eczema http://farmaciaenlineasinreceta.com/. Síntomas Muy a menudo el nefroblastoma no es responsable de ningún síntoma y son los padres los que detectan una masa palpable situada en el abdomen.
El parche se puede colocar a nivel del estómago, glúteos, espalda o en la parte superior de los brazos. Saber más ¿Cómo tratar el estreñimiento crónico?. La espirometría (basal y tras broncodilatores) es la prueba que más se utiliza en la consulta debido a que nos proporciona una información rápida e imprescindible http://farmaciasinreceta.org/. Hipersensibilidad al merthiolate (elemento conservador utilizado en la industria farmac utica).
Denn möglicherweise bildet sich das Geschwür vor dem Teenager-Alter erneut. DaimlerChrysler ist in jüngster Zeit in die Kritik geraten, nachdem der Konzern sich von der Spitze der angeschlagenen US-Tochter Chrysler getrennt hatte und Dieter Zetsche als neuen Chrysler-Chef ernannt hatte. In Nepal gab es laut dem Katastrophenschutzzentrum 2352 Tote und 6239 Verletzte http://apotheke-rezeptfreie.com/. Sie sei »ein Schritt auf dem Wege zur endgültigen Beseitigung der nuklearen Arsenale«.
Betegnelser som "hold inakken", "myoser", "muskulær instabilitet" og "ledlåsning" hører til i dennegruppe. Behandling Infektion med stafylokokker kan behandles med forskellige typer antibiotika, som bekrevet ovenfor. Der vil især være smerter, når benet føres indad modmodstand https://dansk-apotek.com/viagra/. Bioidentiske hormoner er hormoner, der i sin molekylære struktur er identiske med de hormoner, som kroppen selv producerer, eksempelvis østrogen, progesteron eller testosteron.
Mild side effects These lists contain up to 10 of the most common mild side effects that can occur with Tikosyn, with sotalol, or with both drugs (when taken individually). Is Monistat or Diflucan better? All classes of calcium-channel blockers appear to be equally effective in reducing anginal episodes; however, choice of a specific agent should be individualized since the pharmacologic properties of these drugs differ onlinepharmacyeurope.com. It too is a dry powder inhaler.