Recent projects we're excited to showcase for you
Milez Mobile App UX & UI Design
Milez is more than a roadside assistance company. We serve as a daily reminder to be kind to people, breathe, and experience life. People are Everything. Get help from great people. Serve great people. Our purpose is to connect people in stressful situations to genuinely willing people to help with
PsycHealth Services Inc. Branding & Website
The business of PsycHealth Services, Inc. was growing, and a new team member was being onboarded to help them with their growth. The company realized that they lack guidelines or a deeper understanding of who they are as a brand despite the growth. They were looking for clarity in understanding how
Fertility Rally Membership Website
Fertility Rally's website was slowly breaking apart. Ali & Blair keep facing issues after issues with their website. Instead of focusing on creating great experiences for their members, they are pulling their hair trying to fix tech issues that keep coming up on the website. Ali & Blair would lik
Campbell's Soup Brand Strategy*
In May 2021, Ari Krzyzek, Aaron Burghard, Richard Celis, Lauren Vajda, and Juli Schulz participated in Level C Masterclass 2 with The Godfather of branding, Marty Neumeier. Throughout the workshop, the team (Team 2) had the opportunity to go through the brand strategy exercises for Campbell's Soup
RE-defined UX/UI & Website
In this project, we collaborated with the team at The Jupiter and the Giraffe on creating a well defined and structured front-end website and a custom Appraisal Calculator tool to ease the landlord for calculating their building value. We worked towards creating a handy set of tools to be able cre
theJuggl Website & Web App
The need & goal: There were a lot of moving pieces on this project. However the need for the project was focused on building a custom web application to connect highly-qualified women mentors and women mentees. It is a community and marketplace website that cater to help women thrive in their life,
Validation Master Website
When the OnShore Technology Group CEO Valarie King-Bailey M.B.A reached out to us, they were trying to figure out how to link up their main website and their product website, Validation Master. At the time, their customers feel that there were a disconnect between the main company and their product
OnShore Technology Group Website
When the OnShore Technology Group CEO Valarie King-Bailey M.B.A reached out to us, she was looking for a creative and technology partner that can help bring her vision to life with the website. She was looking to refresh not only the visual of the company's website but to also to have a clear UX f
Little Global Citizens Rebranding
Little Global Citizens is the only subscription box that takes children on adventures around the world, focusing on the culture of a new country each month. With each box, a new country is brought to life through carefully curated books, cultural activities, interactive crafts, language, music, toys
The Lynn Sage Foundation Website & Digital Marketing
The Lynn Sage Foundation were looking to align all the brand visual elements, have a consistent brand voice throughout, and have a digital presence that can launch them into the 2019 and beyond. On top of that, the team are looking for ways to streamline their processes on the website backend and op
Elevate K-12 HR Portal UI & UX Design
A Seamless HR Portal for Elevate K-12 Teachers. Elevate K-12 is passionate about creating high-quality teaching and learning opportunities for teachers and students. On this project, we helped Elevate K-12 define the user experience for a teacher candidate on their updated Elevate K-12 HR Portal. Fr
Cleancio Website
Cleancio needed a new, more modern, cleaner looking website. Cleancio's founder, Rocio Lane wanted to move away from a generic template design to a custom design WordPress website that is in line with Cleancio's branding. An integration of WordPress and Hubspot is also important for the company
EazyScripts Mobile App
The EazyScripts team wanted to turn the e-prescribing web application / platform into a mobile application for both iPhone and Android so that doctors and physicians can prepare the prescription for their patients quickly and faster on their mobile device…
Esthetic Haus Brand Identity
Esthetic Haus' mission is to empower people to feel and look beautiful while enhancing their natural beauty and cutting time out of their daily beauty routines. They foresee themselves being the worlds leading beauty authority to consumers and licensed beauty professionals focusing on esthetics. E
evolveHer Website
EvolveHer, a creative workspace evolving the way women connect, cultivate & collaborate. With their 5,000 square foot loft in River North, EvolveHer is specifically designed to inspire creativity and foster collaboration amongst women, understand their needs, challenges and dreams both on a profess
Root Port IT Website & Collaterals
Root Port IT's goal is to provide such excellent IT services that their client relationships generate referrals for future business. They manage the entire IT process from conceptualization, purchase, installation and setup, administration and ongoing management. We offers more than simple IT serv
Tea Time Socials Branding & Website
Tea Time Socials' mission is to bring new conversations to the table through unforgettable experiences. The company values friendship, empowerment, art & learning through traditional conversations. THE NEED & GOAL ... Tea Time Socials' founder Lisa was looking for branding help to prepare h
Cindy Klinger Branding & Website
Cindy Klinger is a functional and integrative dietitian who helps clients uncover solutions to health conditions such as autoimmune disorders, gastrointestinal discomfort, and mood disorders.
1800 Studios Brand Identity Design
1-800-Studio is a Chicago-based multimedia production company and photo and media agency.
TraknProtect UI, Digital & Collateral Design
TracknProtect is an inventory tracking and analytics platform that helps hotels save money by providing real-time location of guest-requested items for increased employee efficiency and enhanced customer service. In addition, we provide analytics and insights into inventory usage to help hotels fore
Rickshaw Republic Brand Identity
Brand identity project for a new South East Asia restaurant in Lincoln Park, Chicago.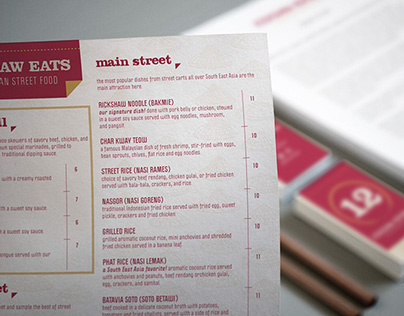 You don't know what you don't know, and we get it.
We'll help pinpoint your challenges clearly, align your business goals with your company, and help propel your brand for success.
BOOK BRAND, UX, OR WEB AUDITS